Welcome to the World Homeopathic Research Organization
World Homeopathic Research Organization is dedicated to fight against conventionally incurable conditions ailing humanity.
Many patients across India have benefited from homeopathic treatment by WHRO Team. We have successfully treated cases of muscular dystrophy, mental disorders such as anxiety neurosis and depression, children with developmental-delay or mental-retardation, trigeminal neuralgia, rheumatoid arthritis, chronic migraines, chronic eczema, chronic urticaria and other skin conditions and dengue fever through Homeopathy. Some of the testimonials are given below.
1. A case of Muscular Dystrophy
This child, Satyam had some atrophied muscle fibers in the AIIMS muscle biopsy reports. AIIMS, New Delhi, is amongst premier medical institutions of the World. Satyam had received various treatments for this condition but unfortunately without any response. When he came to WHRO for treatment he could not eat on his own or dress himself, there was continuous flow of saliva from his mouth and parents were told that until the age of 18 years he will be bed ridden. Within 7 months of starting homeopathic treatment from WHRO and he started to get better and is now able to eat himself, dress himself, is able to coordinate with other persons in society, is able to learn & write, is going to school and now dribbling of saliva from his mouth has almost stopped. Now his CPK is 119 (Normal range: 39-308 U/L).
Below is the video of the cured case of Satyam, which was presented by his sister Dr. Juhi in a big function where Satyam was also presented before the big audience of 2000 people.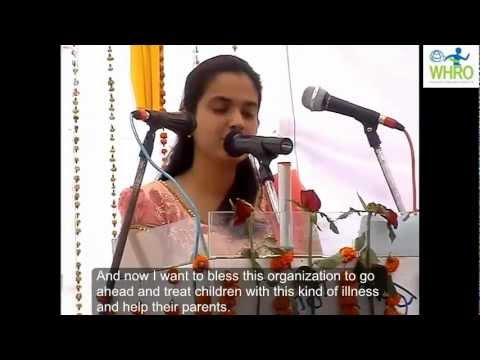 Scanned reports of AIIMS, recent photographs of Satyam where he is playing cricket and taking photographs from his camera are available by clicking this link. Mobile Numbers, address of Satyam's family will be given to genuine patients of this kind on demand.
2.Watch dengue fever testimonials by clicking on this link

3. Watch other testimonials by clicking on this  link
Our success rate is around 80 %
We concentrate on curing the patients and to assure quality service we take only 5 patients per day through prior appointment.
To make an appointment call on mobile numbers provided under "For Appointment" on upper right side of this page; Or fill the Contact Us form on right hand side of this webpage with your contact details, one of WHRO Team members will be in touch with you with in 7 working days.
Reason for establishing WHRO is the service of the humanity
We extend our sincere support & best wishes to all forms of medicine, families, individuals and organizations that are fighting against such conditions.