Testimonials
Many patient's across India have benefited from homeopathic treatment by WHRO. Below are some of their testimonials.
My name is Ashish kumar Vishwakarma and I live at Dwarka nagar near Railway station and used to work in MPEB.
But since, last 7 years I suffered from the disease called MUSCULAR DYSTROPHY [MD] due to which my whole body got stiff & I was bedridden. I took all kinds of treatments for it like Homeopathic, Allopathic, Ayurvedic, Acupuncture etc. but did not get any relief. I was told by doctors that my disease of MD is incurable and it has does not have any treatment at world level. I was very much dissatisfied and worried. Thereafter I also came to know that one of Police officer Mr.Bajaj of Hoshangabad who was also suffering from Muscular dystrophy had died due to this disease which made me more frightened.
Then I began to search treatment for my disease, I came across WHRO website, which gave me hope as they have cured MD case of child Name Satyam, who had suffered from MD since birth. WHRO Team took this case and brought the cure, now the child is absolutely well and was playing cricket, doing all his routine activities and living his normal life.
After meeting Satyam, I started my treatment from WHRO with hope and trust. Previously I was unable to walk by myself, I needed support by 4 people. But after starting the treatment slowly signs of improvement started to appear. Before the treatment my CPK was 701, which reduced during treatment with homeopathic medicines. Now, I have started doing my routine work without any support or help and I feel 80% cured. With further treatment I am hopeful of getting fully well.
I am very much thankful to Mr. Sharma and his WHRO team and wish that may all the patients suffering from MD find relief through WHRO's treatment.
A case of Psoriasis
My name is Shivam Singh. I live in Satna. I was suffering from skin disease called psoriasis since last 2 years. I took allopathic, homeopathic and ayurvedic treatment for it at Indore but did not get any relief. Doctors told me that there is no treatment for this disease and I will have to live with it for my whole life. As this skin disease had spread throughout my body, I was also in severe depression because of it.
Then my colleague suggested to seek consultation from WHRO. I started homeopathic treatment from WHRO in Jan 2014 and now (in July 2014) my disease is completely cured. I am very happy with WHRO's treatment.
A case of Hypothyroidism
My name is Archana Singh. I live in Kolar (Bhopal).
In 2011, my health started deteriorating; I started having complaints such as vertigo, backache, severe knee pain which made it difficult for me get up, constant drowsiness with sleeplessness, increased appetite and frequent bouts of irritability.I consulted Allopathic Physician for my complaints who advised thyroid tests. My laboratory tests revealed I had Hypothyroidism (high TSH) and I was put on allopathic medicine for it, but it didn't suit me. Also I did not want to take allopathic medicines due to their side-effects.
In the meanwhile, I came to know about WHRO. I booked an appointment with WHRO and shared all my complaints to female Doctor of WHRO. With the homeopathic medicines, I started feeling better in 2 months.
I was suffering with hypothyroidism since 2011 and I have taken treatment from WHRO from April 2012 till 2013. I recently had my thyroid test done and my report is normal. I no longer suffer from vertigo, abnormal appetite, backache and pain in knees. I feel relieved from all these complaints I am very much thankful to WHRO. My age is 45 years but due to disease I had started feeling like a 70-80 year old lady. But after the treatment I feel absolutely healthy and for this, I again give thanks to WHRO. (Comparison of test reports: before and after treatment)
A case of Hyperthyroidism
This is Dr. Suyash vishwaroop. He has completed his MBBS from pune & working as a Doctor in Sassoon general Hospital Pune. He was suffering from Hyperthyroidism, recurring cold & coryza and some other complaints since 2012. Dr. Suyash discovered that in conventional medicine there is no permanent cure for Hyperthyroidism, except for taking tablets for lifetime. Therefore he seeked Homeopathic treatment from WHRO. Within a year of treatment with WHRO his thyroid levels are in normal range and othe complaints have been cured too. Attached are his Investigation Reports before, during and after WHRO treatment.
(Comparison of test reports: before, during and after treatment)
A case of Skin & Digestive disorder
My name is Fakhruddin Ahmed Khan. I am from Bilaspur, Chattisgarh. I am working as a typist. I had two thick large nodosities in my right foot since 20-25 years; and had frequent complaint of navel displacement staying nearly for 20 days a month. I tried many local treatments for it.
Then I came in contact with WHRO and since their treatment I got 80-90% relief in my nodosities and there is no navel displacement now since 6 months. Now I feel completely healthy. I am thankful to WHRO.
My name is Hemant Kumar Rawat. I am working as a Manager in HR department in Reliance Life Insurance. I suffered from Anxiety Neurosis for 8 months before I came in touch with WHRO. Due to Anxiety Neurosis, I had severe anxiety, loss of sleep and I felt that I had no control on myself.
I took treatment from Psychiatrist Ruma Bhattacharya but there was no relief. On taking the medicines I felt better but on stopping it I had recurrence of problem.
Then I came in contact with WHRO. Within 2 months of treatment from WHRO my anxiety came under control. Now I am living my life with same enthusiasm as before. I am very thankful to WHRO and all its team members.
A case of Allergic Bronchitis
Myself Dr. Amit pawar, I am doing my internship in MBBS from Gandhi Medical College Bhopal. I had Allergic Bronchitis since 12 years. Due to it I had many problems, I could not concentrate in my studies, I could not sleep at night and I used to get 4-5 attacks per year, with much coryza, sneezing, coughing and accumulation of sputum in the airways due to which I had severe breathing problem.
I met many ENT specialists and Respiratory Medicine Physicians but they advised that Bronchial Asthma is a degenerative disease, and it is difficult to cure. I took Salbutamol and B-agonists with temporary relief and again repetition of same problem. I also took steroids for it but no relief.
Then I came to WHRO and after their treatment I have no problems. I am satisfied and now there is change in my life style. My quality of life is improved and I am thankful to WHRO.
A case of Rheumatoid Arthritis
Hi, myself Akansha gupta from Gwalior. My husband owns a wine business. I had Rheumatoid Arthritis since 1996. For it I did many Ayurvedic and Homeopathic treatments. During severe pain I used to take painkillers. Then I came to know about WHRO, since 6-7 months I am taking treatment from WHRO and there is no problem of Arthritis now. Earlier I used to have small joint pains and swelling, also swelling in my fingers but now there is no such problem. Thanks to WHRO.
A case of Trigeminal Neuralgia
My name is Jumana ben Bangdiwala. I am from Vadodara. I had been suffering from Trigeminal Neuralgia since last 6 years. I used to get severe pains like electric shock. Due to these pains, I was not able to eat properly; I was not able to brush my teeth, even the touch produced pain. For this complaint, I took allopathic, homoeopathic treatment, consulted with Vadodara's famous Neurophysician Dr. Bhavis Upadhayay. Besides this I also took treatment from Global Baroda Hospital, but did not got any relief. I took Radio frequency 3 times. Doctors told me that treatment for my disease is only surgery.
Then I took homeopathic treatment from WHRO and here I got 60% relief within 3 months. Now I don't get that Electric Shock like pain, I can eat well and brush my teeths comfortably. I can do all my routine work well now. Thank you WHRO
A case of Allergic Rhinitis
I am Akhlaq. I had been suffering from allergy since 9-10 years. My allergy was so severe that I was suffering from coughing, sneezing, itching all over the body and even having difficulty in breathing at night. Therefore, I had to take allopathic medicines daily. I took treatment from many doctors -Dr.Gupta, Dr. Aggarwal etc. but I got relief only for 1-2 months; only till I continued to take the medicine. 8 months ago (in October 2012), I came in contact with WHRO, I took treatment from here. Within 1 month I got slight relief. Gradually with continued homeopathic treatment from WHRO I got much relief and at present (May 2013) I don't have to take any allopathic medicine. Thank you WHRO.
A case of Vaginal Complaint
I am Nidhi Mishra from Delhi. My husband works in Delhi High Court as an Advocate. From year 2008, I was suffering from vaginal complaint –" I was feeling pricking sensation as if thorns are present in vagina" It was very much painful and I was unable to walk. I took allopathic and homeopathic medicines but did not got any relief. I took treatment from Haridwar also which is my native place,but did not got any relief.
Many investigations were done, doctors told that its my psychological problem and not physical disease. My family was not ready to accept that I am suffering from this problem. Due to which my family life and married life was getting disturbed.
Then, one day I saw WHRO advertisement in news paper. I came here, Doctors of WHRO understood my case & my problems ,they explained me that its not my psychological problem, I have been really suffering from this vaginal problem .They told me that I will get relief and I will get complete cure and really I got relief from WHRO treatment within 10 days. I am happy now. My husband will tell you how are condition has improved now. Nidhi's husband says: I am thankful to WHRO, who understood my wife and her problem and gave the solution. We had shown to many Doctors, they gave medicine but did not got any relief and when their medicine failed to work they started giving excuses that its her mental disease and she is not having any such problems, she is misleading everyone.When we came to WHRO, they understood our problem and cured the case.
 A case Menorrhagia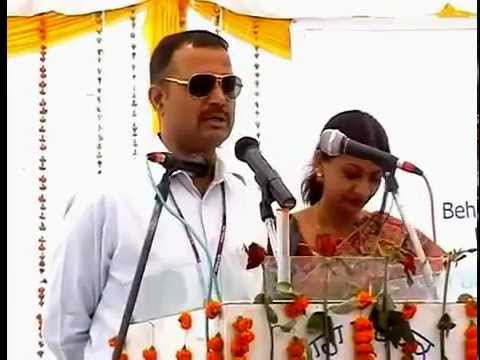 Read this testimonial in English >>
A case of Muscular Dystrophy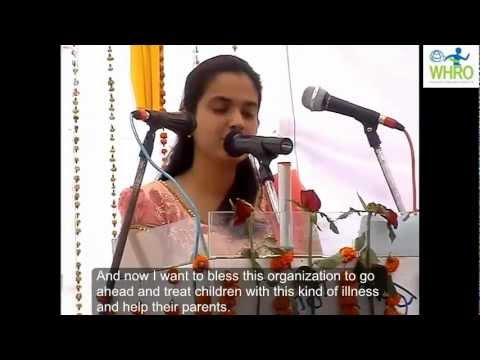 2 Cases: Menorrhagia due to Fibroids and Chronic Eczema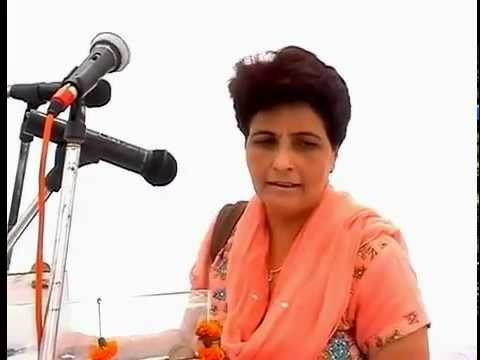 Myself Mrs. Bajaj I am here to share my experience with you. (I was suffering from heavy bleeding since few years. Doctors suggested me, removal of uterus due to fibroids. Due to heavy bleeding, my haemoglobin reduced to 6mg/dl. With Homeopathic treatment from WHRO, heavy bleeding stopped and haemoglobin came back to normal without the removal of uterus. – part of Mrs Bajaj's testimonial on inauguration day. It is missing in her video testimonial due to open-stage acoustic recording issue. Our sincere apologies – WHRO Team). Read the complete testimonial >>
A case of chronic migraine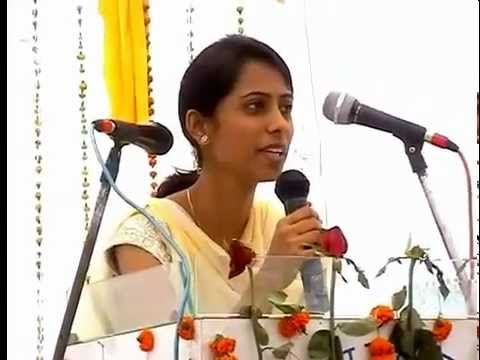 Read this testimonial in English >>