A case of muscular dystrophy
In this video you can watch Dr. Juhi Sharma speak about her brother Satyam's illness of muscular dystrophy and its treatment through homeopathy by World Homeopathic Research Organization.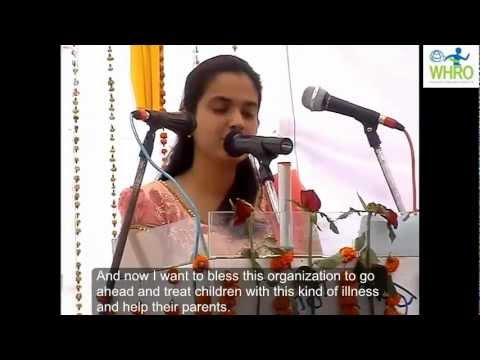 If you are not able to watch this testimonial video due to slow connection, don't worry, you can read its english translation at the end of this page.
---
What is Muscular Dystrophy ?
The muscular dystrophies (MD) are a group of muscle diseases characterized by progressive weakness and degeneration of the muscles that control movement.
According to Muscular Dystrophy Campaign – "The terms  such as 'muscular dystrophy', 'muscle disease', 'neuromuscular conditions' and 'neuromuscular disorders' all describe a large group of conditions which affect either the muscles, such as those in the arms and legs or heart and lungs, or the nerves which control the muscles.
There are many different types of muscular dystrophy. Different conditions affect different muscles. The severity of conditions and how they affect individuals varies greatly from person to person. Most conditions are progressive, causing the muscles to gradually weaken over time. People's mobility is affected and most conditions lead to some sort of disability.
Muscle disease affects babies, children and adults, both males and females, and all ethnic groups. Conditions can be inherited or occur out of the blue where there is no family history."
---
Test Reports:
Below are Satyam's test reports from his initial investigation at AIIMS till his latest blood report after the treatment where it can be seen that his CPK is in normal range now. These reports are scanned copy of his original reports and can be viewed by clicking links below:
---
Photographs:
Below are Satyam's latest photographs where he can be seen enjoying and taking photographs using DSLR and playing Cricket :
---
Satyam's loving, kind & caring nature is a gift for all those who know him. His latest blood-test report on 22-03-2012 showed CPK in normal range. He is growing up as a bright young individual, who joyfully ran and joined WHRO Chairperson, Shri D.R.Sharma on stage during All Women's Clinic inauguration ceremony. We are very proud of him !! – WHRO Team & Satyam's family.
---
As promised here is the english translation of testimonial video on the top of this page. In Juhi's own words: "Hon'ble Guests and Chief Guest I Juhi Sharma, hereby to present the case of my younger brother Satyam Sharma. At the age of 1.5 years, dated 24/10/97, he was shown to All India Institute of Medical Sciences (AIIMS),Delhi for inability to sit and other problems. Along with many investigations, muscle biopsy was done. In muscle biopsy small piece of muscle tissue is taken for examination. The reports said, "Muscle Biopsy shows variation in fibre size, some of the fibres are atrophied". Muscle Atrophy implies some dis functioning of muscle fibers is present.
The treatment was continued and re-visit to AIIMS on 26/5/2009 was done where multiple syndromes were diagnosed like moderate MR/obesity/dysmorphism/prox myopathy etc.
Then on 31/03/2009, Satyam was taken to Digdarshika Institute of Rehabilitation and Research Bhopal. According to it: Test findings – on the Vineland social maturity scale showed his SA is 5.6 years and his SQ 47. He lags behind in the categories of self-help eating, occupation, socialization and self-help dressing." This report concluded that patient has moderate mental retardation with mild behavior problems and he is likely ? to develop muscular dystrophy.
My parents were informed that after the age of 18 years probably due to obesity he will not be able lift himself from bed.
After that World Homeopathic Research Organization run by Mr. D.R.Sharma treated him purely with some homeopathic medicines. After which his weight/obesity is under control, the child now dresses himself, eats on his own and has also started going to school and is now able to coordinate with other persons in society and is also able to learn and write. Now I want to bless this organization to go ahead and treat children with this kind of illness and help their parents. "